Keeping the patient first in all we do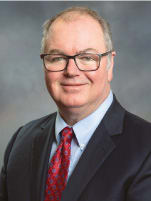 For 22 years, Kevin McRoberts, FACHE, has had a singular focus: Grow Lake Regional Health System.
Now Lake Regional's CEO, McRoberts shares the reason he has dedicated his career to local health care.
"My goal to help the health system grow comes from my desire to meet the needs of the community," he says. "We all have loved ones and neighbors who in the past would have to leave the community to seek care elsewhere. And we all know people who vacationed here and retired here, but when they began having health concerns, they returned to the metro area. I've been determined to give them a better option.
"What you see at Lake Regional today — including our heart program and our cancer program — we have built to meet people's needs so they will call this community home," McRoberts says.
Here, McRoberts shares more about what inspires his vision for Lake Regional.
Q: What opportunities have you most excited about Lake Regional's future?
A: For most of our history, our service area was Camden, Miller and Morgan counties. Our expansion into Lebanon has resulted in demand from patients in Laclede and Pulaski counties, effectively doubling the population we're serving.
This expansion allows us to support more specialties, resulting in greater access for our community.
Q: What is your No. 1 priority as CEO?
A: My top priority is ensuring that all of us at Lake Regional always put the patient at the center of every decision. Health care requires constant innovation. We have to be sure that as we innovate, we always ask, "Will changing this process or purchasing this technology or adding this position result in better patient care and better patient outcomes?"
As CEO, I am committed to keeping the patient first in all we do.
Q: Lake Regional uses the slogan, "Our Commitment Runs Deep." What does this phrase mean to you?
A: It's the work, the calling, the commitment that is on display throughout the health system every day. I am proud and humbled to be leading such a remarkable team.
Categories: CEO
What is a Culture of One?
See how our core values guide our care for you.