Spring into heart health
Ready to get your heart pumping? All you need are your walking shoes.
"Walking is a simple and effective way to exercise," says Kunle Tosin, M.D., FACC, an interventional cardiologist at Lake Regional Heart and Vascular. "Walking is great for your heart and muscles, and regular walking can help you manage your weight, blood pressure and cholesterol."
According to Harvard Health, walking for 150 minutes a week can cut your risk of heart disease by 30%. Walking also can help reduce stress and improve your mood.
"If you are not used to getting physical activity, start small and build up to 150 minutes or more per week," Dr. Tosin says. "You should also check with your physician before starting an exercise program."
Walking in your neighborhood is a great way to get in your daily steps, but if you need a change of scenery, the many trails around mid-Missouri provide beautiful backdrops.
"Exercising outdoors is good for the body and mind," Dr. Tosin says. "Research has shown that spending time in nature is good for your heart health because it helps reduce stress, which plays a part in lowering your blood pressure. Sunshine naturally increases serotonin, a mood-boosting hormone, and exercising outdoors can feel more like play rather than a chore."
The opportunity to take in the gorgeous spring weather and landscapes is just another great reason to start moving.
A few of our favorite places to walk
Address: 26250 Highway 64A, Lebanon
Activities: Fishing, camping, lodging, hiking, floating and more.
Come see the cool water gush from Bennet Spring as you explore one of the five trails at this state park in Lebanon. A favorite is the Whistle Trail, which is 1 mile and features multiple overlooks of the valley. Trail surface is natural.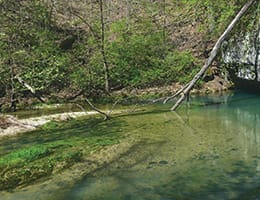 Address: 1491 State Road D, Camdenton
Activities: Hiking, fishing, kayaking, boating, playgrounds and more.
This state park is a geologic wonderland with 14 trails of varying lengths. The Spring Trail is 1.4 miles and features wildflowers, the old gristmill, 316 steps and much more. Trail surfaces vary among boardwalk, natural and paved/concrete.
Address: 403 Highway. 134, Kaiser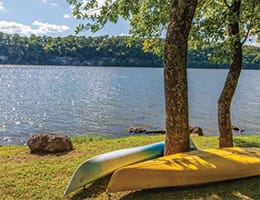 Activities: Boating, swimming, camping, hiking, biking and more.
This state park, which is spread across multiple ZIP codes, has a lot to offer nature lovers with 13 trails in all. Lake View Bend Trail is 1.5 miles long in the campground and features views of the lake. Trail surface is natural.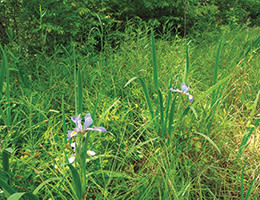 Directions: From Versailles, take Highway 52 west for 10 miles, then Route FF south for 8 miles to the end of the blacktop. Turn west on Big Buffalo Road, and watch for area signs. From Cole Camp, take Route B south for 13 miles, then Route WW east to the end of the blacktop. On Big Buffalo Road, turn north and go 1.25 miles to the area.
Activities: Camping, hunting, bird watching, fishing and hiking.
This mostly forested area, located near Stover, contains approximately 16 miles of multiple hiking trails along the Buffalo Creek. All trails have a natural surface.
Directions: From Climax Springs, take Highway 7 east for 4.3 miles, and then take Granger Lane south for 2 miles. Watch for signs.
Activities: Fishing, hunting, bird-watching, camping and hiking.
View wildlife on hiking trails that vary from 0.25 to 1.25 miles in this public area located 7 miles east of Climax Springs. All trails have a natural surface.
Additional information
The Conservation Areas do not have addresses. All featured state park trails are moderate in terms of difficulty; the Conservation Areas do not designate trail difficulty. It is recommended to apply insect repellent before walking on any nature trails. Photos courtesy of Missouri Department of Conservation and Missouri Department of Natural Resources.
Categories: Healthy living
Care from the heart
Lake Regional is pleased to welcome board-certified cardiologist Kunle Tosin, M.D., FACC. To make an appointment, call 573.302.4406. Service is very important to Dr. Tosin, who says he is "honored when my patients experience life-changing results."