Patient Stories
Featured Story
Cardiac patient Bill Manion reflects on his experience receiving two stents at Lake Regional, as well as his wife's triumphant battle with cancer.
Cancer Care
Nancy McElyea relied on the support of her husband, Charlie, to get her through her cancer diagnosis and treatment.
Nancy McElyea was not expecting a breast cancer diagnosis, but when it came, she never considered getting her care anywhere other than Lake Regional Health System.
McElyea is a retired Kindergarten teacher and long-time resident of Camdenton. The mother of two and grandmother of four loves making memories with her family and friends. Every day, she and her husband, Charlie, go for a long walk with their dog. They also love to travel and explore state and national parks.
In February 2019, the couple was enjoying a vacation in Florida, when she felt something suspicious in her breast.
"I was not too concerned but thought it would be best to have it checked out when I returned home," McElyea said.
The Diagnosis
McElyea had a mammogram and breast ultrasound at Lake Regional Imaging Center that detected a lump; a biopsy then confirmed that it was breast cancer.
Lake Regional Oncologist Maggi Coplin, M.D., determined that a lumpectomy was the next step. Because McElyea's cancer was detected early, she did not need radiation or chemotherapy.
"Nancy had an OncotypeDx test after her biopsy, which looks at 21 different genes to help determine the benefit of chemotherapy," Dr. Coplin said. "She had a low risk of cancer recurrence and was able to skip chemotherapy and go straight to an anti-estrogen pill. We also discussed lifestyle choices to decrease her risk of recurrence, including diet and exercise."
Lake Regional General Surgeon John Patton, D.O., FACOS, performed the lumpectomy, and McElyea felt like a weight had been lifted when the doctors told her for certain that the cancer had not spread beyond her breast.
"After I had my lumpectomy and was told my lymph nodes were clear, I could finally breathe a sigh of relief," McElyea said.
McElyea credits the support of her husband, who volunteers as assistant secretary on Lake Regional Board of Directors, and her team at Lake Regional for helping her get through her diagnosis and treatment.
"Charlie was my rock through it all, going with me to every appointment," McElyea said. "I felt very blessed to have a support team at Lake Regional that worked well together. I would always ask the doctors what they would do in my situation, and I felt confident that they were giving me the best advice and care possible."
Compassionate Care
McElyea has seen Lake Regional Health System grow tremendously during the past 40 years. Her family relies on Lake Regional for all of their health care needs, and three out of four of her grandchildren were born at the hospital. McElyea's positive opinion of the health system was amplified after her experiences at Lake Regional Cancer Center.
"Everyone from the receptionist to the nurses and beyond were encouraging and caring," McElyea said. "I could tell it was important to all the workers at the Cancer Center to provide personalized care to every patient."
McElyea was grateful that she did not have to travel a long distance for quality care. She also felt encouraged during her treatment by all the women who called to offer her support and advice. Now she feels like it is her turn to be an inspiration to others.
"Make sure to have regular check-ups and screenings," McElyea said. "I think all women should do self-check exams as well because no one knows your body like you do. You are your own best advocate and should make your health a top priority."
Lake Regional Urologist Eric McQueary, M.D., and Skip Thomas
Ira "Skip" Thomas learned he had prostate cancer in June 2018. The 73-year-old from Camdenton thought he'd have to go to Columbia to get the recommended care —minimally invasive surgery using a robotic system. Then he learned Lake Regional Health System was adding a da Vinci X robotic surgery system.
Compared to traditional minimally invasive prostate surgery, da Vinci surgeries have many potential benefits, including fewer complications, a shorter hospital stay and a quicker recovery.
"Columbia is a long drive from Camdenton, so I decided I'd rather do the surgery here at Lake Regional," Thomas said.
Lake Regional Urologist Eric McQueary, D.O., performed Thomas's surgery.
"He's very straightforward, very honest," Thomas said. "I really like him."
Dr. McQueary is always in the same room as his patients when performing da Vinci surgeries, and he is always fully in control of how the instruments move.
Thomas's surgery went well. He returned home after one night in the hospital and needed only one pain pill.
"I had no problems at all," he said.
Two weeks later at a checkup, Thomas felt great and was thankful he received the care he needed at Lake Regional.
"Dr. McQueary explained the whole procedure to me ahead of time, so I was very relaxed and comfortable with it," he said. "I would recommend it to anybody."
Cardiac Care
JoAnn Chapman, an accomplished pianist and retired teacher, is thankful she had a good recovery from a serious heart attack on April 6, 2018. She was flown to Lake Regional Health System from Waynesville, and within 15 minutes of her arrival, she had complete blood flow restored to her heart.
JoAnn Chapman, 70, was driving from her farm near Doolittle, Missouri, to a friend's house in Richland when her chest started to hurt.
"Tippy, I've got that indigestion again," she told her beagle, riding along with her.
For weeks, Chapman, a retired teacher, had felt tightness and burning in her chest. It would come and go, but this time was worse.
"It was hurting so bad, it was crushing me," she said.
Time is Muscle
She didn't know it, but Chapman was having a heart attack. During a heart attack, also called a myocardial infarction, there's a blockage in blood flow to part of the heart. The amount of damage to the heart muscle — and how quickly it happens — depends on the size and location of the blocked vessel. It also depends on whether the blockage is partial or complete.
"The faster a heart attack patient seeks treatment, the better their chances are for survival and a good recovery," said Julia Hudler, Lake Regional's STEMI coordinator. (STEMI stands for "ST segment elevation myocardial infarction," a particular kind of serious heart attack.) "We say, 'Time is muscle,' because the more quickly we restore blood flow, the more heart muscle we can save."
"Take Her to the Lake"
As Chapman's pain worsened, she pulled off the road into a parking lot and called her son, Geoff Heavin. Chapman told Heavin she was in Waynesville and something was wrong — she didn't know what. Then she quit talking.
Heavin is an emergency medical technician paramedic for MU Health Care's ambulance service. So he knew what to do. He called Pulaski County dispatch and asked them to ping his mother's phone to find her. Then he took off from Doolittle to Waynesville. When he arrived, his mother had just been loaded into a Mercy Life Line Air Medical Service helicopter. Heavin jumped inside and told them to take her to MU. But the flight nurse, Jennifer Isenburg, told him no, they were going to Lake Regional. Heavin started to argue, but Isenburg pointed to the monitor — which showed Chapman's heart was in serious trouble — and said: "You know time is muscle. The lake is 15 minutes closer."
"You're right," Heavin said. "Take her to the lake."
"The faster a heart attack patient seeks treatment, the better their chances are for survival and a good recovery," said Julia Hudler, Lake Regional's STEMI coordinator.
Beating the Clock
Treatment for heart attack requires opening the blocked artery in a cardiac catheterization lab. A doctor threads a thin tube with a tiny balloon through blood vessels to the blockage. The balloon is then inflated to push plaque aside and restore blood flow. "Door-to-balloon" time measures how much time passes between the patient arriving at an emergency department and the care team restoring blood flow. Nationwide, the median door-to-balloon time is 60 minutes.
"We're proud that our 2017 median door-to-balloon time at Lake Regional was 43 minutes," Hudler said. "That is better than nine out of 10 hospitals nationwide."
Chapman's flight took 18 minutes. When she landed, Lake Regional's heart attack team met her at the door. Chapman was in cardiogenic shock, which happens when the heart can't pump enough blood to the body. It is fatal if not treated immediately. The team started her on medications for this life-threatening condition while going to work on finding the cause of her heart attack. Testing revealed the artery on the heart's right side was completely blocked. Lake Regional Cardiologist Zubair Khan, M.D., FACC, quickly inserted a balloon to open the artery and then placed a stent to hold it open.
Fifteen minutes after her arrival at Lake Regional, Chapman had complete blood flow restored to her heart muscle and her cardiogenic shock started to improve. She went home just two days later, on April 8, 2018, and her heart was back to normal functioning.
"The people and the care were just wonderful," said Chapman, who is happy to be back home on her farm, where she cares for several rescued dogs and cats. Her son the paramedic agreed she went to the right place.
"I was very impressed with the lake hospital," Heavin said. "They understand the timeframes that have to be met, and it worked flawlessly."
Level II STEMI Center
To help heart attack patients receive the best care possible in the shortest amount of time, the State of Missouri has identified hospitals that are well-equipped to treat heart attack. Lake Regional was among the first hospitals to become a Level II STEMI Center this spring.
Because Lake Regional has earned this designation, EMS providers can bring heart attack patients to Lake Regional. In addition, rather than having to transfer heart attack patients on to another care center, Lake Regional can receive transfers from other hospitals.
Lake Regional Health System is the only hospital between Columbia and Springfield that is a state-designated center for trauma, stroke and heart attack.
Cardiac patient Bill Manion reflects on his experience receiving two stents at Lake Regional, as well as his wife's triumphant battle with cancer.
Family Birth Center
All of Waylon's needs were met right where he was born — and that made things much easier for his parents.
First-time parents Tiffany Crain and Tristan Timm were excited to welcome their son. Pregnancy had been a little stressful with Tiffany developing high blood pressure. They were happy to have delivery behind them. After holding their son, they decided the name "Waylon" suited him.
All seemed well the first day. But the second day of his life, Waylon wasn't eating well. Or sleeping. Testing revealed he had a blood infection. Along with antibiotics, Waylon needed some help breathing.
"I immediately started packing our bags," Tristan says, recalling his reaction to the news. "I was sure we'd have to go to another hospital."
But Waylon had all the support he needed at Lake Regional.
For years now, Lake Regional has had a Level II Nursery. This designation allows the Lake Regional Family Birth Center team to care for infants requiring antibiotics, IV fluids, respiratory support and much more. As a result, Lake Regional only transfers babies to another facility if they require neonatal intensive care.
Waylon didn't need that extreme support. All of his needs were met right where he was born — and that made things much easier for his parents.
"It was a lot better for us because we live in Camdenton," Tiffany says, adding Lake Regional went above and beyond by offering her and Tristan a room and meals while Waylon was hospitalized.
"They were always there to help," she says. "The nurses would run back for any concerns we had, and the doctors were really nice and helpful. As first-time parents, we were asking questions about any little thing, and they were really nice to us."
Pediatrician Kimber Guinn, D.O., had just joined Lake Regional and was impressed with her new team.
"Our team acted quickly to treat Waylon," she says, adding she also was impressed with Waylon's parents.
"They supported each other and were so strong together," Dr. Guinn says. "They listened to the treatment plan, gave us their blessing and trusted us. They were wonderful."
Finally, 12 days after he was born, Waylon was ready to go home, with a follow-up appointment already scheduled with Dr. Guinn at Lake Regional Clinic – Lake Ozark. Tiffany and Tristan took their newborn son home with a new appreciation for their local hospital.
"We had no idea Lake Regional could do all this," Tiffany says. "We're really happy they were able to care for him."
Hospice
A Love Story: Joe and Peggy Proch
Joe Proch had less than three months with his wife, Peggy, after doctors found the mass. They didn't know how fast the time would go — but Joe knew from the start that having the right support would make all the difference in their final memories together. That's why he turned to Lake Regional Hospice.
Hospice provides what most Americans say they want at the end of life — the chance to spend their time at home, with support for them and their family members.
"It was a blessing," Joe says. "It was comforting to have someone who would sit down and discuss the situation with me, and they showed me how to meet her needs."
Your gift to Lake Regional Hospice will provide more families like the Prochs with support for this crucial time of life — which continues as families process their grief.
Joe says that support — the help he has received since Peggy passed away — has helped him avoid a deep depression.
"We were married 63 years, and we dated for five years before that," Joe says, describing a life that was simple and good. They had three children, six grandchildren and two great-grandchildren. Before their retirements, Joe worked construction, and Peggy was a food service director for their local school district for many years.
"She was the nicest, sweetest, most forgiving person — a wonderful wife," Joe says. "She loved babies. She loved flowers. She loved the Royals and the Chiefs. She really got a kick out of going to the ballgames."
With her gone, Joe has found comfort in the connections he still has with his hospice team, who shared that special time with them.
"It makes you feel good that they still care," he says. "They made it easier. It couldn't be easy, but they made it easier. I'm tremendously thankful for their help."
Give, Honor, Support
You have the opportunity to show local hospice patients and their families how much you care while also honoring a loved one. Lake Regional Hospice will host a Memorial Butterfly Release at 9 a.m. Saturday, Aug. 27, at Osage Beach City Park. The event is free, but those who give $25 or more may submit a loved one's name for the event program. Please visit lakeregional.com/DonateNow to submit donations by Thursday, Aug. 18, and please use the comment box at the bottom of the form to provide your loved one's name.
Orthopedics
Camdenton High School student Karli Wolfe heard a loud pop and felt intense pain as she collapsed on the volleyball court.
It was her left knee.
"I was hitting an outside ball and rotated the wrong way," she says. "It was awful. I was afraid to look at my leg." Wolfe had torn her ACL and her lateral meniscus.
Knee injuries, particularly ACL injuries, are common in high school athletes. ACL stands for anterior cruciate ligament. It helps stabilize the knee and prevents the shinbone (tibia) from sliding out in front of the thighbone (femur). The lateral meniscus is a band of cartilage. It also helps stabilize the knee, plus it absorbs shocks.
"Recovering from even one of these injuries requires a serious commitment from the athlete," says Lake Regional Physical Therapist Taren Kirk, DPT. "Tearing both the ACL and the lateral meniscus makes recovery that much more challenging."
A strong athlete with plans to play volleyball in college, Wolfe made up her mind before she ever got off the floor that she would recover.
"I knew I had to have a positive attitude," she says.
The first step was surgery. Then came eight months of intense rehabilitation therapy at Lake Regional Rehabilitation Therapy – Camdenton.
"The first seven months I was coming in three days a week after school," Wolfe says, adding it was a big help to have the clinic just a few minutes away. But even if she'd had to drive farther, the care would've been worth it, she says.
"Everyone here was so encouraging," she says. "My leg wasn't bending at first like it should, but they told me to keep exercising and I would get good results. They helped me stay positive through the setbacks."
Her care team strategized different approaches to help her, including some time in the rehab clinic's pool for aquatic therapy. They also used a resistance band, weights, and balance and agility tools.
Wolfe's injury happened at the start of her junior volleyball season, in the Jamboree game on Aug. 20, 2018. She worked on her recovery the rest of that school year and finally, the following summer, was released for sports — in time for her senior year of volleyball. She's thrilled to be back with her team and looking forward to continuing to play volleyball at Central Methodist University.
When she was still in therapy, her care team told her to go full-speed when she returned to volleyball.
"And that's what I've done," she says. "They told me I could overcome anything, and I did."
Matthew Amsberg continues to receive follow-up care at Lake Regional Orthopedics.
Matthew Amsberg, 33, laced up his running shoes with the goal of starting a rigorous exercise routine. But his right knee had other ideas. Every time he ran, he experienced pain, which quickly progressed to pain even when he walked. When the problem didn't ease with home remedies, Amsberg, vice president of lending at Heritage Bank in Lebanon, sought help from his primary care provider.
Lake Regional Internist Jeffrey Fears, M.D., ordered an MRI. It revealed a torn meniscus. Dr. Fears referred Amsberg to Lake Regional Orthopedic Surgeon Scott Hofer, D.O., so he could get specialized care.
"I appreciate that Lake Regional continued to see my care through, even when the solution wasn't simple," Amsberg said. "Dr. Hofer took time to listen and address the full problem. When exercises and a cortisone shot didn't stabilize my knee, I was worried that my case might be dismissed because of my young age and ability. However, Dr. Hofer was adamant about finding a resolution that worked for me."
Dr. Hofer performed an arthroscopic repair surgery on Amsberg in February. The surgery was low-risk, but the recovery, which includes physical therapy, generally takes months.
Amsberg was scheduled for a post-operative appointment with Dr. Hofer two weeks after his surgery. He found himself in the doctor's office earlier than expected, but his knee wasn't the problem.
"My son broke his arm, and Dr. Hofer treated him too," Amsberg said. "I was once again impressed with the level of care. Not only was Dr. Hofer attentive to my son, but he was respectful of my time as well. Dr. Hofer had me go ahead with my post-op appointment since I was already there."
Two months after his surgery, Amsberg is on the road to recovery and looking forward to pain-free physical activities.
"I'm continuing with my physical therapy and will hopefully start jogging soon," Amsberg said. "I have another follow-up appointment with Dr. Hofer, but overall, I think my recovery is ahead of schedule."
This experience has taught Amsberg the importance of never delaying your care.
"When I had the surgery, they found more damage than expected, which could have been debilitating on down the road," Amsberg said. "I'm glad I listened to my body, fully explained my situation and continued to follow through with my care. I felt involved all the way through, which increased my confidence about the whole process."
Stroke Care
Jon Wiebe with members of his Lake Regional care team
Stroke survivor Jon Wiebe was excited to reunite with some of his caregivers from Lake Regional Emergency Department. He knew they had to see him to understand the impact of their fast care.
"I stood up and walked toward them, and all three of them just froze in their tracks and their chins dropped," Wiebe, 64, said, referring to Shawn Andreasen, R.N.; Crystal Lloyd, R.N., Stroke Center coordinator; and Mariah Swinker, R.N., Trauma Center nurse coordinator. "They couldn't believe what they were seeing."
Something was not right
Just five days earlier, Wiebe, a retired businessman, was driving home from the construction site of his future home in Village of Four Seasons when he noticed that something did not feel right. His wife was out golfing, so he knocked on a neighbor's door for help. By then, his vision was blurry, "like I was looking through frosted glass," he says. The neighbor called 911.
When the paramedics arrived, Wiebe was no longer able to speak and had to use physical cues to communicate. His symptoms pointed to a stroke. He needed to get the hospital immediately.
A stroke can occur when a blood vessel that feeds oxygen and blood to the brain is blocked by a clot. This is called an ischemic stroke and was what Wiebe was experiencing.
Within 43 minutes of his arrival at Lake Regional, the stroke team administered tPA, a lifesaving treatment that immediately broke up the clot blocking blood flow in his brain. National guidelines recommend a door-to-needle time of 60 minutes or less.
While the clinical care at Lake Regional Hospital was swift and exemplary, Wiebe was also impressed with the human connection.
"My emergency room nurse, Shawn, was fantastic," Wiebe said. "And Crystal was phenomenal."
A second stroke
Wiebe had made it through one stroke with no disabilities — but the second day, while he was still in the ICU, his right side suddenly went limp. His doctor, Neurologist Philip Kurle, was in the room and immediately recognized that Wiebe was suffering a major stroke and would need surgery.
A small hole in Wiebe's heart, called a patent foramen ovale, had allowed a larger blood clot to form and pass to his brain. Wiebe needed to be transferred to University of Missouri Hospital in Columbia for emergency brain surgery to remove the clot.
Wiebe's wife, Jannice, was with him in the hospital. Lloyd was able to keep her calm.
"Crystal told my wife not to worry and shared her cell phone number in case she needed her or had any questions," Wiebe said. "I really appreciate the attention they gave to our family while I was there and even after I got up to Columbia. You just don't find that every day in a hospital."
Time is brain
At Columbia, Wiebe woke up from surgery feeling almost like his normal self. To the surprise of his medical team, he did not suffer any cognitive or physical damage from either of his strokes. He was released just two days after arriving — with no need for rehabilitation.
"Time is brain," Lloyd said. "The quicker you receive treatment following the onset of stroke symptoms, the better the outcome. Mr. Wiebe is a great example of this."
Even so, Lloyd said, Wiebe's recovery was exceptional, and it was incredible to see him back to normal just days after he first arrived at Lake Regional.
"I felt amazed and grateful to see Mr. Wiebe walking toward me," Lloyd said. "If you did not know he had just had two strokes, you wouldn't believe it. Cases like Mr. Wiebe are my why — why I love being a stroke coordinator and why I feel community education about how to survive a stroke is so important."
Albert Hempel is sharing his story to encourage others to act fast when they suspect a stroke.
When Albert Hempel, 53, woke up on Feb. 27, he felt great and ready to tackle another day working on his family's ranch near Eldridge, Missouri. As he was getting ready, he noticed a loss of balance but thought sitting down for a moment would resolve the issue. But then his right leg started trembling, followed by his right side going completely numb. Hempel had heard enough radio public service announcements to know he was experiencing a stroke and needed emergency care.
May is National Stroke Awareness Month, and Hempel is sharing his story to encourage others to act fast when you or someone you know might be having a stroke.
"I had just been thinking about signs of a stroke because my brother and I are our caregivers for our mother," Hempel said. "So I recognized my symptoms were typical of a stroke, and I knew acting fast was key to decreasing my risk of lasting damage. I think everyone needs to know what a stroke looks like so they don't delay getting medical care."
Hempel fell to the ground and used his good side to pull himself to his phone. He called his brother, who rushed over to help, and a nearby friend, who offered to drive him to Lake Regional Hospital, which is a Level II Stroke Center.
A Stroke Is Always an Emergency
A stroke occurs when something blocks the blood supply to part of the brain or when a blood vessel in the brain bursts. As a result, a stroke starves the brain of the nutrients it needs. When a stroke interrupts blood flow to a particular part of the brain that controls a body function, that part of the body won't work normally. Stroke is a leading cause of death or serious disability in the United States.
The good news is fast treatment can limit the damage from a stroke and provide a better chance of recovery. Hempel's stroke was caused by an insufficient blood flow and treated with a clot-busting drug called tPA. His door-to-needle time was 32 minutes, well below the national benchmark of 60 minutes.
"After arriving at Lake Regional, it all happened quickly," Hempel said. "I woke up in the ICU to A-1 care. My nurses in ICU and PCU regularly checked on me and came running if I needed anything."
Hempel was released from the hospital three days later.
Recovery and Rehabilitation
Recovery time after a stroke varies; it can take weeks, months or even years. For many stroke patients, rehabilitation therapies, which can include physical therapy, occupational therapy or speech therapy, can help. Rehabilitation begins in the hospital as soon as possible following a stroke and continues, as necessary, after a patient's release.
"I felt grateful to be able to walk out of the hospital with a cane," Hempel said. "While I was an inpatient, they taught me rehabilitation exercises to do at home. Luckily, I didn't need any home services. My strength is mostly back, but I'm not up to full endurance yet."
Hempel hopes he can inspire others not to lose hope as they recover from a stroke.
"I know it can be discouraging when you don't see quick progress, but you have to stay determined," Hempel said. "Keep up with your therapies, and follow your exercises."
To learn more about stroke care at Lake Regional, visit lakeregional.com/stroke.
Additional Services
Eldon High School senior Hunter Bushnell recovers from life-changing injury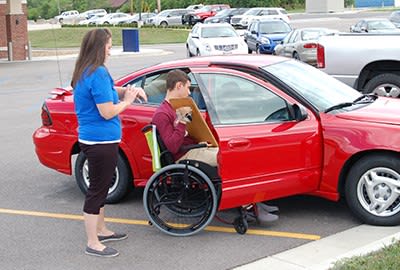 "Can you time me?"
Hunter Bushnell sits in his manual wheelchair next to his car with what looks like a long wooden cutting board in his hand. Standing next to him, setting a stopwatch, is Nikea Rudloff, a physical therapist assistant at Lake Regional Rehabilitation Therapies in Eldon.
"OK, go," she says. And two minutes, 30 seconds later, Hunter sits in the passenger seat of the car, having used the slide board and his upper body strength to move himself from one seat to the other.
This victory is one sign among many that paralysis will not keep Hunter, a senior at Eldon High School, from an independent life.
"Hunter is extremely motivated, and though still occasionally cautious with new activities, he is willing to try anything and always attempting to do everything better or faster," says Sara Birkemeier, DPT, Hunter's lead physical therapist at Lake Regional.
Creating a Plan
It was a year ago that a hard hit in football practice left Hunter mostly paralyzed from the neck down. After a nine-day hospitalization and a month of inpatient rehabilitation therapy, Hunter began physical therapy and occupational therapy at Lake Regional Rehabilitation Therapies in Eldon. His physical therapy focuses on regaining strength and muscle control, while his occupational therapy helps him overcome his disabilities to participate in everyday activities.
Since Nov. 6, 2017, Hunter has received both therapies three days a week. His mom, Brandy Shoop, says having services available in Eldon has been very important.
"It makes it easier for me to get him to therapy, and I'm still able to be there for our other children," she says, referring to Hunter's brother, who is in 10th grade, and sister, who is in fifth grade. "Hunter is able to go straight from school to therapy in plenty of time so there's no stress about not making it."
Getting to Work
In the beginning, Hunter hoped to regain his ability to walk. But as he became more aware of his limitations, he adapted and instead focused on regaining independence — learning how to sit unsupported and advancing to dressing, eating and getting around without assistance.
Shoop calls her son's progress "astounding."
"He has learned so many amazing skills that he will continue to improve upon going forward," she says.
She adds that Hunter's therapists have become like family, and Hunter agrees.
"They keep pushing me to be better and show me that I can do things I didn't think I would be able to," Hunter says. "It's allowed me to come as far as I have and gave me the biggest potential for progress."
Hunter interacts with Katie Kelley, occupational therapist, and Meghan Stayton, occupational therapist assistant.
Meanwhile, Hunter's therapists say they couldn't have a better patient.
"His motivation has been extremely high, and I believe his attitude has helped him accomplish everything he is able to do now," says Meghan Stayton, a Lake Regional occupational therapist assistant. She also notes Hunter's family has done much to support his recovery.
"His entire community is so supportive of him," she says.
Looking Ahead
On Aug. 15, Hunter had his last occupational therapy session. It included a visit to a grocery store where he did everything from maneuvering the cart to paying the cashier — all without assistance. He continues physical therapy to improve his strength and muscle control.
Hunter says his goal now is to continue to become more independent. A strong student, he hopes to join the Honors College at the University of Missouri – Columbia.
His therapists, family and community all look forward to seeing his accomplishments.
"I became very close to my therapists as they became a big part of my life," Hunter says.
"Hunter is an inspiration with his never-ending enthusiasm and his perseverance in pushing himself to do things that were not initially expected of him," Birkemeier says. "He has become a part of the Eldon clinic and continues to motivate us, other patients and the community. We're all so proud of him."
A traumatic injury can happen anywhere at any time. Lake Regional is proud to offer free, life-saving training courses to our community to empower individuals to help in an emergency. Watch the incredible story of one class participant's experience.
David Lettow was relieved to get the COVID-19 vaccine in mid-March.
David Lettow, 56, walked into his Lake Regional primary care clinic on a mid-March day with a feeling of relief. Back in January, he had joined a waitlist to receive a COVID-19 vaccine because he knew how bad COVID-19 could be. Lettow, who works for a local boat dealer, had spent 13 days on a ventilator in the ICU at Lake Regional in October.
"It started with a low-grade fever and a dry cough, but then my symptoms went away around day three," Lettow said. "But then, on day 10, I noticed a pressure in my chest. I was later admitted to Lake Regional Hospital with very low oxygen levels."
Lake Regional Pulmonologist Haryjot Sohal, M.D., recognized that Lettow's lung functioning was severely impaired and that he needed to be on a ventilator. Lake Regional Surgeon Scott Brick, D.O., later performed a tracheotomy on Lettow, who was in the hospital for another 10 days after getting off the ventilator.
"Eventually, I recovered enough that I could go back to work," Lettow said. "However, I still have to be very careful on how much I exert myself. I easily experience shortness of breath, and my lungs are not back to full capacity. I also feel extremely worn out by the end of the day, which is usually accompanied by some tremors and lightheadedness."
Lettow is considered a COVID-19 long-hauler and is still struggling with related health issues six months later. Long COVID is when symptoms persist more than four weeks after first being infected with the virus that causes COVID-19.
Safe, Effective, Needed
Medical professionals recommend all adults to be vaccinated even if they have already had COVID-19. All of the vaccines have proven highly effective at preventing illness.
"COVID-19 is more virulent compared to the flu or other viruses," Dr. Sohal said. "It is more contagious, and there is more severity in symptoms or risk for death. This vaccine is going to help save lives. And if we want to get back to normal and stop wearing masks, then we need to make sure the majority of the population gets vaccinated."
Lettow is grateful to have protection against possible reinfection.
"I wanted to ensure that I didn't have to go through anything like my last battle with COVID-19," Lettow said. "I had minimal side effects from the vaccine. I felt a little off for a day, but it wasn't anything that interfered with my daily activities. I would encourage people to get vaccinated and to not believe the misinformation surrounding the vaccine.
"I feel relieved to have this layer of protection from the vaccine," Lettow continued. "My case was very severe, and I don't ever want to go through that experience again."
Millions of Americans have been vaccinated, with the vast majority experiencing minor, temporary side effects. Lake Regional has administered more than 16,000 first and second doses.
All Missouri adults can get the COVID-19 vaccine through a Lake Regional primary care clinic. Find one at lakeregional.com/clinics.
Cole Bradbury, local business owner, felt relieved after getting the COVID-19 vaccine.
The COVID-19 pandemic has had a profound financial impact on most organizations. For Cole Bradbury, who owns three gyms in mid-Missouri, that meant his gyms were closed for seven weeks.
"When we opened back up, our foot traffic was still down overall, and we weren't able to offer day passes," Bradbury said. "But we were lucky that we never had to temporarily close any of our locations again due to quarantine."
Questions Answered
Bradbury, 35, wanted more than luck on his side, so when COVID-19 vaccines became available earlier this year, he made sure to request an appointment.
"My wife and I work with the public every day, and we are unable to work from home," Bradbury said. "The threat of possible quarantine because of a close contact has always been a worry for us, but getting vaccinated eliminated that concern. The vaccines have also eased our members' minds as more have returned since vaccination became available."
Before deciding to get vaccinated, Bradbury went to his Lake Regional primary care provider, Mark Shen D.O., for his recommendation.
"I did a lot of research beforehand, and I wanted to make sure I listened to what medical experts had to say," Bradbury said. "When making health decisions, I think it is important to have a conversation with your provider and trust their expertise. I asked Dr. Shen for advice, and he told me he was confident in the safety and efficacy of these vaccines and that I should take it."
Less Than 30 Minutes
Bradbury found the vaccination process to be fast and easy. He arranged it so that he could get his shots while on a short break from work.
"Luckily, I was able to get a vaccine appointment with Lake Regional less than five minutes from where I work," Bradbury said. "Including scheduling, the whole process was very efficient. I think it took less than 30 minutes, and I was able to quickly go back to work.
"For my first shot, I only experienced minor site injection pain," Bradbury continued. "With the second dose, I planned ahead and kept my schedule to a minimum for the following day. I had a slight fever, but it wasn't anything that impacted my daily activities. When my wife got her shots, her only side effect was a sore arm."
Back to Life
Bradbury enjoys spending his free time being active with his wife and two young sons. Now that he and his wife are vaccinated, they also feel more confident participating in public activities.
"Before getting vaccinated, we were cautiously participating in limited activities," Bradbury said. "But now we are more comfortable going out in the public. Getting vaccinated brought us both relief, and now we don't have to worry about quarantining or getting sick and how that would impact our livelihood."
Anyone age 12 and older can get the COVID-19 vaccine through a Lake Regional primary care clinic. Find one at lakeregional.com/clinics. To learn more about the safety and efficacy of the COVID-19 vaccine, visit lakeregional.com/vaccine.