Our commitment to Lebanon runs deep
With a new facility and expanded capabilities, that commitment is only growing deeper. Lake Regional Health System's new Lebanon Campus will provide greater convenience along with access to excellent care from people who are fully invested in this community.
The 12.5 acres between Cowan Drive and I-44 will soon be home to a 30,000-square-foot medical destination. Check back here for progress updates and to see the future of health care in Lebanon built in real time.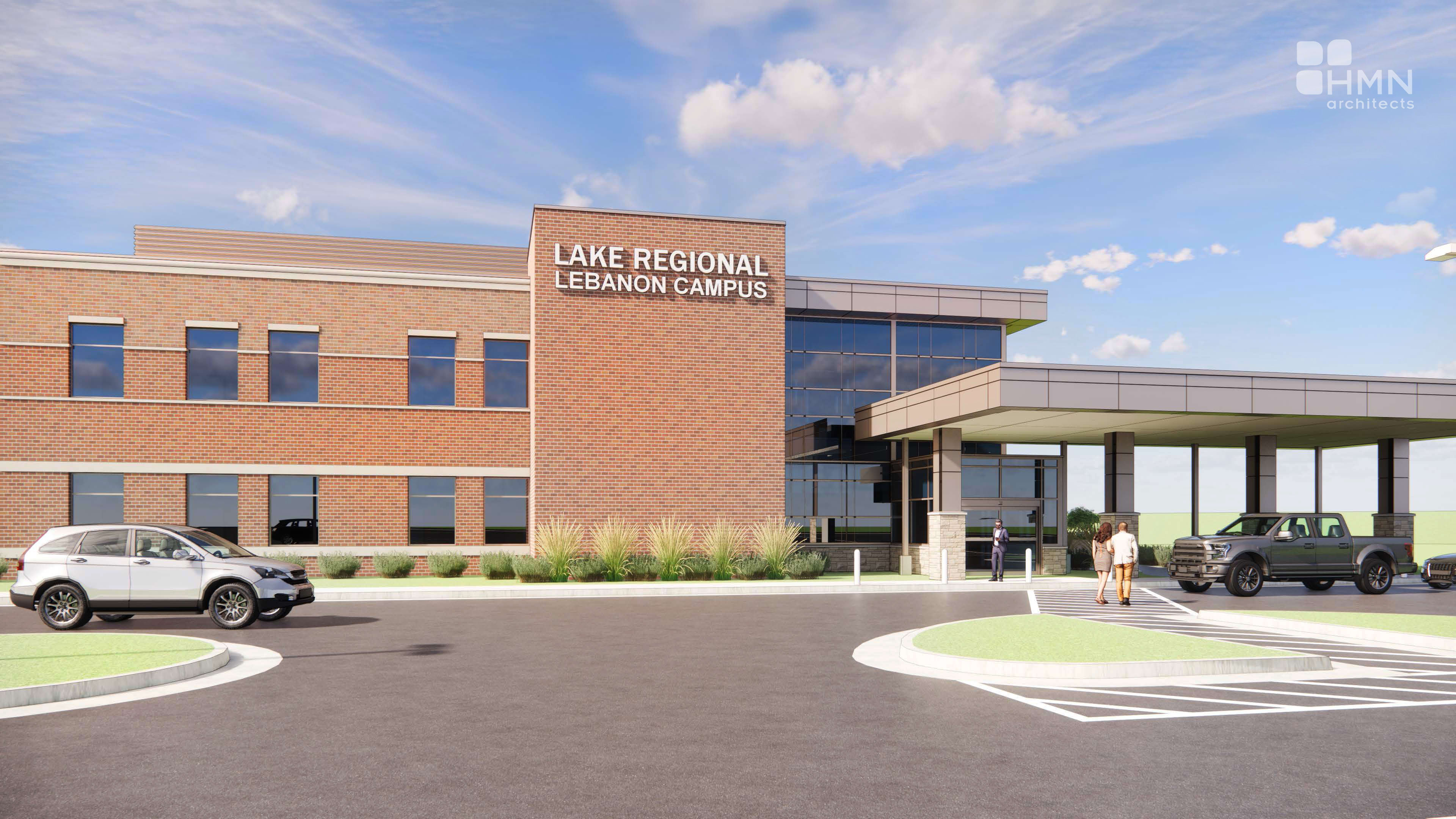 A new hub for health care
The people of Lebanon can look forward to quality health care from providers they know and trust, right at their doorstep. We're here for Lebanon, and we're here to stay. In fact, we're expanding our services. Here's what you can expect to find at the new Lebanon Campus.
Primary Care and Pediatrics
Building on the offerings of our Lebanon clinic, our new campus will continue offering complete health care for the whole family, from routine wellness visits to treatment for acute illnesses and chronic conditions.
Express Care
Our no-appointment, walk-in Express Care clinic is equipped with digital X-ray services, and provides assistance for patients three months and older for non-emergency issues, such as cold and flu symptoms, infections, sprains and minor pains.
Expanded Specialty Care
Whether you need ongoing care for chronic conditions or treatment for a recent injury, access Lebanon-based expertise in orthopedics, heart care and more.
Occupational Medicine
Keep your employees healthy and productive with our full range of occupational health services, including work injury treatments, drug screenings and government-mandated physical examinations.
Additional Capabilities
All of our services are backed by the excellence of Lake Regional Health System, which offers access to an expanded selection of care and doctors.
New Services coming to 441 West Elm Street
Home Health
Now Open
Our team of experienced nurses care for people of all ages within the comfort and convenience of their own home.
Rehab Therapy
Physical, occupational and speech therapists treat a wide range of injuries and disorders, helping people regain skills for day-to-day living.
What's to come
As we build toward a healthier future, we invite you to follow along with our key milestones.
Property Purchase, Fall 2020

We knew we wanted to be in Lebanon. From there, we worked to find a location that could hold our campus and provide convenience.

Land Clearing, Winter 2020

Made way for the machinery, so the construction crews could break ground.

Ground Breaking, Summer 2021

Building a strong foundation for the future of health care in Lebanon.

Grand Opening, 2023

Welcoming patients to the new Lebanon Campus.
Receive timely updates
Follow the progress on social media or sign up for our e-newsletter to have updates delivered to your inbox. For media inquiries, please contact our Public Relations department at 573.348.8755.
We live here, too
We're proud to serve our friends and neighbors in and around Lebanon. As part of this community, we consider ourselves fortunate to be able to make a positive impact on the lives of others. Click to meet our Lebanon care team or watch below to hear directly from a few familiar faces.
Laura Seaman, Family Nurse Practitioner, Lebanon mom since 2006
With four children in the Lebanon school system, Laura sees the future through their eyes.
Dan Johnson, Nurse Practitioner, Lifelong Yellow Jacket
Dan is a self-proclaimed Yellow Jacket through and through. We're just as proud to have him as part of our team.
Neil Schwartzman, M.D., 30-year Lebanon local
When Dr. Schwartzman moved to Lebanon from New York City, he decided to extend his stay from his original two-year plan.
Dr. Jeffrey Fears, Internal Medicine, Lebanon provider
After 20 years of service at Fort Leonard Wood, Dr. Fears joined our team in Lebanon and is ushering in a new era of care for his patients.
Ryan Rogers, Physician Assistant, Stoutland native
Ryan grew up right down the road and takes great pride in helping the people who helped raise him.
Help us bring care closer to home
Join our growing team of local professionals, and help build the future of health care in Lebanon.

Our commitment to the region runs through everything we do. As the largest employer in the area, we have a stake in the health of those around us. Beyond the excitement of the new Lebanon Campus, Lake Regional Health System is the only hospital between Columbia and Springfield designated for heart attack, trauma and stroke care.